Canny Oil moves its focus to the downstream sector of the Oil and Gas industry. We designed and customized ultra-low NOx energy saving burners for different refineries to meet certain safety and environmental regulations as well as save the total consumption of energy.
Ultra-low NOx Energy-saving Burner
Our burner uses multiple independent combustion units and incendiary units to upgrade the stability (no deflagration) and the continuity of combustion for coking furnaces. The Ultra-low NOx energy-saving burner works as usual when the air supply system stops. Changes in working load, gas pressure and composition, air volume and wind temperature do not affect the efficiency of the burner (the burner functions properly when H2﹤80%). Aside from the unique burner structure and complete combustion, the emission reduction and the energy-efficiency are achieved by reduction of the percentage of O2 in the smoke exhaust and the temperature of the smoke exhaust as well as the increase of gas temperature and pipeline gas pressure. Our solution is safe, efficient, stable, green and economical, combining all the features that you are looking for in the market.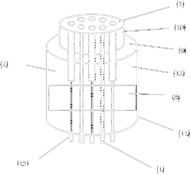 Canny Oil successfully sold burners to different large factories in the domestic market in recent years. Companies including Nanjing Jinling petrochemical (Sinopec), CITIC Dicastal Co., Ltd. (the world's largest manufacturer of aluminium wheels), Daerim Wanda Automobile Co., Ltd., etc. have installed our customized burners, after which time they met certain environmental requirements and saved tremendous annual costs on energy consumption. Please contact us to learn more information and get a free trial test for your furnace.
Key features:
Provide a safe and stable structure with high temperature resistance rare-earth materials.
Improve the combustion efficiency under the same or insufficient combustion circumstance.
Reduce NOx emission about 80% to

7.5ppm – 25ppm

with around

15% of the total emission reduction.

Save

15% - 30%

of the overall energy consumption.
Application:
Petro-chemical industry, coal chemical industry, chemical fertilizer chemical, fine chemical industry and so on.
Application Examples